Navigating the toxic food supply together!
"A hot sauce should be about the journey, not the destination. A great hot sauce will walk you down a path, slowly. Notes of floral and citrus may abound, smoke and peat, all while the temperature rises."
"Essentially, there is only one type of oil that is safe to eat. Unfortunately, almost every processed and ultra-processed food contains one or more of the types of oils that are not safe to eat."
"The "future of plastics is in the trash can" artifice was a brilliant profit strategy, but I doubt that Lloyd Stauffer could have conceived how his vision would lead to dying oceans and contaminated air."
RESOURCES
(films, podcasts, tools, tips & more)
A Biologically Appropriate Diet
is Key to Good Health
It is no accident that the modern food landscape is so difficult to navigate. However, diet is the most essential aspect to health. The proper biologically appropriate diet is all that is needed to retain or regain health. Use this page to discover scientifically based resources and continue your journey for a healthier you. We are designing a free guide to help you navigate our complicated food system and dispel the myths that are detrimental to our well-being and our environment.
DOCUMENTARY FILM RESOURCES

PLU CODES:
1) If there are only four numbers in the PLU, this means that the produce was grown conventionally or "traditionally" with the use of pesticides. The last four letters (or only four, in this case) of the PLU code are simply what kind of vegetable or fruit you're buying. An example is that all bananas are labeled with the code of 4011.
2) If there are five numbers in the PLU code, and the number starts with "8", this tells you that the item is a genetically modified fruit or vegetable. Genetically modified fruits and vegetables have been tampered with in an unnatural way; essentially, produce that has been genetically modified was created in a lab or over decades of artificial selection, and cannot be found in nature. A genetically engineered (GE or GMO) banana would be: 84011
3) If there are five numbers in the PLU code, and the number starts with "9", this tells you that the produce was grown organically and is not genetically modified. An organic banana would be: 94011
Courtesy of: TipPro

THE ONE SUPPLEMENT NEEDED WHEN ON A PLANT BASED DIET:
B12
Dr. Thomas Campbell, MD explains here:
Download the app for Apple or
Android and scan items before you buy them. LEARN MORE

Pendergrass Agriculture & Veterinary Medicine Library:
Houses the history of human diet since the beginning of mankind.
Pro Tips:
LIMIT MEAT (remember it's supposed to be a treat).
AVOID ALL PROCESSED FOODS (inc. dairy)
EAT PREDOMINATELY PLANT BASED
WHOLE FOODS
proven to rebuild your body and remove arterial plaque & damage
PRO GRILL TIP:
ALL YOU NEED IS SMOKE, FIRE, SALT & PEPPER!
1) Soak your wood chips and veggies.
2) Salt & pepper one side of your veggies. Grill for 8 minutes, flip and repeat (salt & pepper/8 minutes).
RESULTS: smoky, savory , and moist.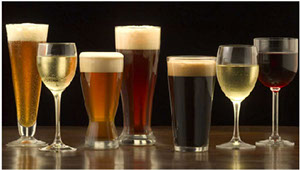 BEER & WINE CONTAMINATED WITH MONSANTO'S WEED KILLER
Read more on ECHOWATCH
Sign up for special offers and invites to try new products!